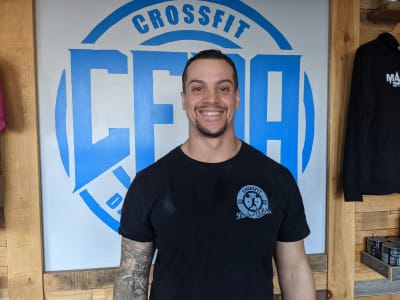 Joe "Marble" Cosenza
Joe 'Marble' Cosenza
has been in the fitness industry for almost 10 years. He started working out when he was 14 years old for High School Football with his brother, Frank, who he credits with starting and keeping him on track throughout the years. Joe began doing weightlifting and CrossFit in 2008/09 and noticed the amazing euphoria felt after each workout. The challenges faced each day with the WOD were exactly what he was chasing.
While doing CrossFit from 2010-2013, weightlifting became more interesting and he wanted to learn more about it. He began training in a small weightlifting gym in South Brooklyn and from there kept increasing knowledge until he was able to open CrossFit Dark Athletics with his partner, Matt Lebovits in 2016.
Joe is constantly improving his education and has been growing the CFDA community since inception.

Qualification
USA Weightlifting Advanced Sports Performance Coach (L2), CrossFit L-1, USA Powerlifting Club Coach